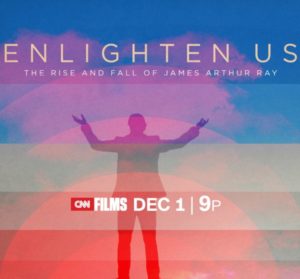 Just prior to the start of 2017, James Arthur Ray shared his story with the world in the CNN Films documentary "Enlighten Us: The Rise and Fall of James Arthur Ray," directed by Jenny Carchman.
For James Arthur Ray, 2017 was a big year; and the tone was set by the tell-all documentary that premiered Thursday, Dec. 1 at 9:00 p.m. EST. "Enlighten Us" was first shown at the 2016 Tribeca Film Festival in New York City and was also screened at Telluride Mountainfilm in Colorado, as well as the Tallgrass Film Festival in Kansas.
The documentary takes a look at the journey James Arthur Ray has taken as he rose and fell from greatness. It also follows James in his attempt to return to the $11 billion personal growth industry after he was convicted of negligent homicide in the deaths of three of his clients at one of his retreats.
CNN Films delves deeper into the self-help industry and what people are looking for from life and business coaches like James Arthur Ray. Director Jenny Carchman's film asks the question: Why are some willing to risk so much for personal growth and guidance?
"Jenny Carchman's thoughtful film brings viewers inside an industry we may recognize, but not fully understand in terms of the multifaceted and complex risks for some clients.  This film invites reflection and conversation about the broad questions of meaning and fulfillment, but also about how we seek answers to those questions," executive vice president of talent and content development for CNN Worldwide, Amy Entelis said in a CNN press release.
After the film debuted just before the start of 2017, James Arthur Ray made big strides in his comeback throughout the next year. But, as the documentary points out, it had been a long journey for James Arthur Ray up to that point.
In 2006, James appeared in the film "The Secret." It helped lead to him to celebrity status that grew his clientele and overall brand as an industry leader in business, leadership and ultimate performance. The books and television appearances that followed made James Arthur Ray one of the world's foremost leadership and performance advisors.
However, as his story shows in "Enlighten Us," some methods of self-improvement can lead to devastating results. Viewers learn all about this from James, his followers, and his accusers in this groundbreaking documentary that exposes some of the story that the media never covered.